Find Housing Digital Service
Ministry of Seniors and Housing, Government of Alberta
January 2021 – May 2021 
User Experience Design • Public Service Design • Web • Mobile web
The Ministry of Seniors and Housing wanted to transform Alberta's affordable housing system. After a 10-person panel release their finding of a service review, the Digital Innovations Office was contracted to help build the new service.
The intent from the Ministry leader ship was: "Work with housing operators to develop a centralized housing portal to manage waiting lists, including vacancies, and develop standardized application forms for the community housing and seniors lodge programs.   This centralized portal could build on existing systems and should utilize universal application forms and a centralized intake process for any future provincial programs."
Albertans who are looking but unsure of their options for affordable housing

Alberta government staff and call centre workers

Private & community housing providers

Third-party & community referral services
My role: User Experience designer, User Interface designer, User co-researcher

Product team also consisted of: a Service Designer, 3 Full-stack developers, a Strategist, and a Product owner
Eligibility and policies are based on old acts and legislation from 20+ years ago
4-month time limit to produce Beta software
Addresses of housing providers needed to remain private for safety and security
Digital service cannot completely replace in-person support, for the most vulnerable citizens
Limited to finding housing in first phase of project
Focus on mobile-first delivery
Final deliverable should give citizens, advocates, and support networks a centralized place to access potential housing options that best fit their own needs (self-selected)
Diverse and large group of stakeholders, including Ministry staff, politicians and civil servants, policy advisors, third-party service delivery staff, private housing providers, public housing providers, community and social services providers, co-operative housing associations, citizens, current tenants, and staff from other Ministries (Health, Community and Social Services)
A large proportion of marginalized segments of society, including: rural, women and children fleeing domestic violence, Indigenous, people living with disabilities (physical, mental, addictions), seniors, veterans, LGBTQ2+, recent immigrants (especially refugees), people at risk of homelessness.
Competing, and often conflicting, motivations for housing providers: Community housing, private not-for-profit, private for-profit, housing co-operatives, municipalities and affordable housing grant recipients
Intersectionality of a whole person applying (social, community, psychological, emotional, religious)
Large stigma and social shaming around access to, and living in, affordable housing
Systemic disadvantage and prejudice 
English as an additional language / low levels of literacy
Mistrust of government (especially from recent immigrants / refugees)
Housing is an essential need, but may not be the only or trigger need (food security, lack of access to service, no social insurance, geographical disadvantage, lack of access to digital technology)
Systemic complexity and obfuscation of processes
Citizens having to re-tell their stories continuously throughout the process, potentially re-living trauma
Human-centred research and co-design/consultation 
Assessment of real need from a wide and diverse set of stakeholders and interests
Focus on primary research and workshops
Input and feedback would drive and inform additional research / design direction
Not "reinventing the wheel". Leverage environmental and comparative jurisdictional scans—locally, nationally, and internationally
Recognize this is a "wicked problem" which requires continuous consultation and integrated approach from multiple stakeholders
Create a short 3-5 mins screening and eligibility tool to provide tailored results unique to a user's situation

Use simple language, grade 3 literacy level (

sometime people had their school-aged children fill out forms for them, due to language barriers!)

Provide estimated cost to rent, calculated based on self-declared income (verification to occur after by provider)

Provide a general level of demand for both areas & units 

Offer close-to best fit or next-best fit options, allowing them to decide if they wish to make accommodations for earlier access

Link out to wraparound services—income support, health, etc—to ensure a useful service with no "dead-ends"

Providing supports for physical locations, if applicants require in-person assistance
Explore the needs of citizens for safety and security
Consider pre-filling the lease agreement and legal forms rather than providing a blank document to speed up the process 
Consider providing applicants with the different policies and rules of the different properties they are eligible for to help ensure that there is an appropriate long-term fit
Explore opportunities to further assist tenants in the long-term tenancy, particularly as they age.
Artefacts and deliverables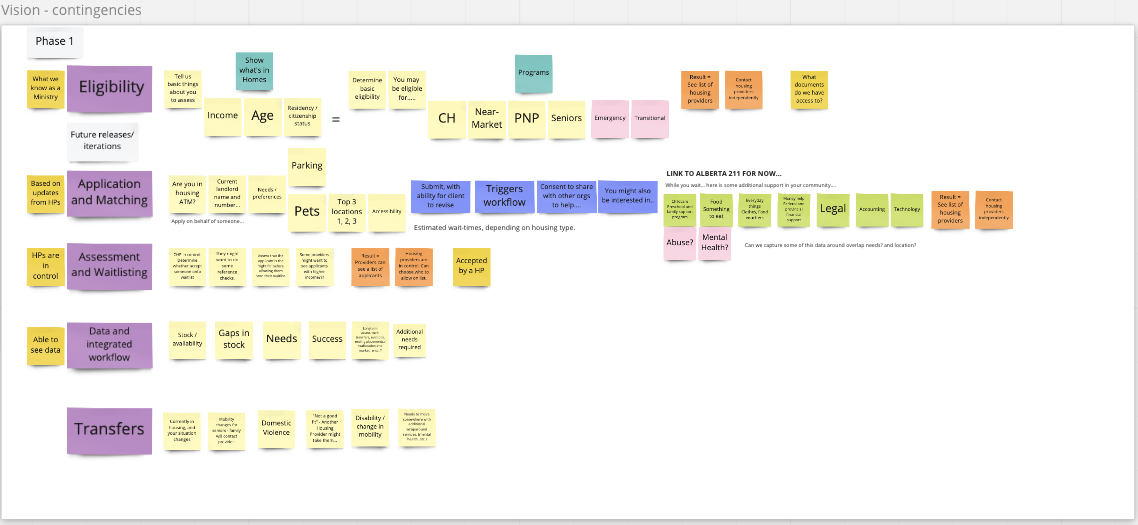 Information architecture card sort
End-to-end service off-ramps
I was shuffled to a new Ministry and project and had to hand over the UX reigns to someone else before the second phase (applying for housing) commenced
Increased engagement and collaboration across Ministry and service providers
Prototype and Public Beta user tested and received well by citizens, providers, and Ministry
Ministry reported satisfaction and decreased failure demand / eligibility calls at Alberta Supports Call Centres
More people had mobile devices than service providers reported—more actually had a cell phone than they did ID or SIN
Service providers tended to me more technophobic than citizens, due to fear of change or loss of control over process
Stigmatization and perception, feelings of guilt and shame fed so much of this project—it was a very difficult project from a user-empathy stand-point
The line between housed and not is extremely thin. It doesn't take much to go from middle-class to homeless
Housing is a spectrum, heavily sloped to one side, a seismic shift is required to begin to solve the current housing crisis